When LTNs are proposed they quite often face opposition, usually from local businesses or drivers who fear the loss of their rat-runs. But, they are mostly welcomed by residents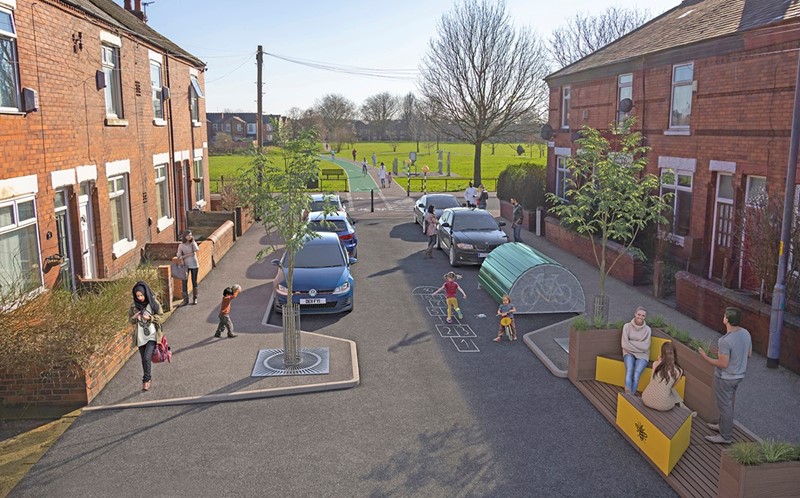 After and before: A computer graphic (above) shows how Levenshulme's Audley Road could look as part of the Active Neighbourhood trial and right is the real-life view of the area
The sight of pop-up cycle lanes being removed has become a common leitmotif in the story of lockdown traffic levels. Installed to enable more people to cycle, the trial bike lanes became the target of motorists' frustrations when they began to return to work post the first lockdown.
The latest controversy unfolded in London's Royal Borough of Kensington and Chelsea where a trial cycle lane (costing £320,000) was ripped out within seven weeks following a small number of complaints – only for the newly freed-up car lane to be blocked by parked cars between 64% and 80% of the time and for the average journey time along the road to increase once the cycle lane had been removed.
The above situation exemplifies many of the controversies around active travel infrastructure in microcosm.
There is a mismatch between central Government ambitions for walking and cycling and local politics. Questions are raised about whether the needs of local residents and businesses are more or less important than those of people travelling through the area.
Businesses are always utterly convinced that change to the status quo will reduce trade. While there is a narrative that accepts that 'something must be done to improve cycling and walking' the will to make concrete plans is often determined by how susceptible the council is to intensive lobbying by a very vocal set of drivers.
The controversy spans the political divide – from right wing libertarians claiming freedom to drive as a right (do none of them cycle or walk?) to a group of left wing egalitarians who claim cycling is elitist.
Opposition to low-traffic neighbourhoods (LTNs) ranges from people who want to be able to drive by the shortest route possible (residential or not) to those who argue on the basis of social equity that residential roads should share the problem of traffic with arterial roads and that funnelling traffic on to major roads increases the problem for those who live close to them.
In the middle, Department for Transport (DfT) research indicates, the vast majority of people – nearly eight-out-of-10 – support measures to reduce road traffic in their neighbourhood and two-thirds support reallocating road space for walking and cycling. So how are the preferences of the pragmatic majority thwarted?
Engagement around active travel is tricky, hearing the quieter majority is difficult in an atmosphere in which the loud minority are prepared to undertake high profile, headline-grabbing stunts. Likewise, weeding out concrete difficulties from within a broader coalition of complaints about the methods rather than the substance of the (proposed or actual) changes can be challenging.
Kit Allwinter, active travel policy officer at the West Yorkshire Combined Authority is an advocate of intensive engagement, but finds that the way projects are funded doesn't help create a constructive dialogue.
He says: "We have to consult on projects where we are effectively saying 'what we think you need is this' which can come across as the council interfering. Funding is attached to finding out whether people would like this or that concrete proposal. It would be better if we could ask what the problems are first and walk with people through the process of the solution.
"With LTNs, we have to work backwards; the questions are not open-ended in the current framework. Proving we haven't a completely pre-cooked solution is important to buy in."
Commonplace
The methods of consultation and convincing people that they can shape plans have evolved over the years.
The Commonplace platform is an online consultation tool. It keeps things concrete by allowing people to put pins in a map of their local area plans and annotate them with their concerns or issues. It's open and provides a permanent record of comments so everyone can see what has been highlighted and the comments about it.
The online tool offers a way to mitigate the impact of the noisy, opinionated people and work out whether they are genuinely representative of public concerns. While town hall meetings can be binary and the discourse directed by the loudest people in the room, online consultation can offer a way for people to give specific feedback.
David Janner-Klausner, Commonplace director of customer success, says:
"The fact that it's online takes away the personal safety worries that you can get in public meetings when there are shouty people. It's also available 24/7 so people can engage when they have time. By inviting comment and feedback it's not as binary as questionnaires too."
The platform includes tools to ensure authorities and people can share the plans on social media. While social media has created echo chambers, the tool also offers ways out by building in news stories and updates that can be shared, enabling people to see new comments and plans as they are made. As comments can be seen in context, it's possible for all to see the positives and negatives alongside each other – and read people's reasonings.
The ability to share plans easily via social media increases the numbers of people invited to contribute. As items are shared, the subscribers to the platform go up and the better information tends to enable more nuanced comment and discussion.
One of the further benefits of employing digital tools is that they also give planners an idea of how many people have seen plans, but are not strongly opinionated.
Janner-Klausner adds: "We find that the more dissemination there is on social media, the higher the bounce rate (those not interested because perhaps it's not relevant for them). Of those who don't bounce we measure how many responded and how many spend time on the website so you can see that, say, 72% have engaged.
The Commonplace platform was used to gain opinions on the Waltham Forest Mini Holland scheme (see below).
---
Waltham Forest, London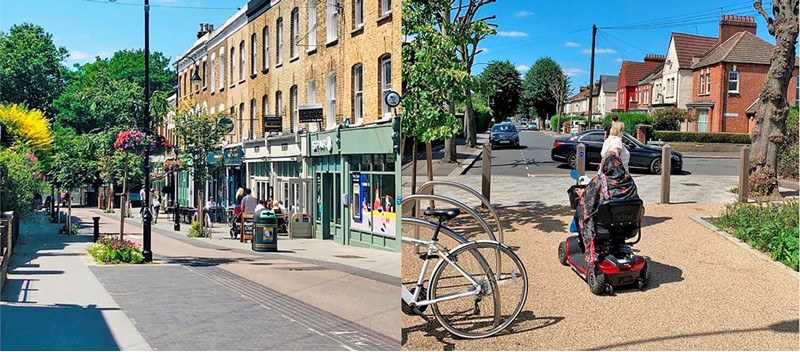 The Waltham Forest 'Mini-Holland' scheme is the longest standing LTN (it was originally awarded funding in 2013). Because early measures are now well bedded in, it is the best studied. It also shows how a high-profile vocal opposition did not necessarily represent the concerns of residents and how measures to reduce traffic, even in the face of a number of loud critics, were worth pursuing.
Mini-Holland was one of the first traffic schemes in a London borough to use modal filters extensively, in a way which typifies LTNs. With a budget of £27m from Transport for London (TfL), the schemefaced early vocal opposition, includingprotests and a 6,000-signature petition opposing the measures.
Use of consultation tools, including Commonplace, and engaging with visitors to the area as well as residents, allowed project officers to counteract arguments from the business community that the removal of parking would be commercially disastrous.
This also enabled the scheme to show widespread public support for its outcomes, such as better pavements, slower traffic and more pedestrian crossings.
The scheme broke ground in January 2015 and is scheduled for completion this year. It comprises more than 50 modal filters, 17 miles of segregated cycle track, pocket parks, alterations to crossings and public realm improvements including tree planting.
Parts of the Waltham Forest scheme have been in place long enough to be independently evaluated by researchers from the University of Westminster, which found that residents living in areas with high numbers of LTN measures were statistically more like to choose active travel and less likely to be car owners. A year on, people living in the borough were, on average, walking and cycling for 41 minutes a week more than those living in comparable areas.
The report did emphasise that LTNs take time to create behaviour change, with benefits becoming clear around a year after implementation. The same team also analysed STATS19 collision data and concluded that walking, cycling and driving become three-to-four times safer per trip within an LTN.
A separate report found no impact on emergency service response times.
Other projects are still very much in progress, and demonstrate the difficulty of public consultation as different groups within communities can end up pitted against each other with differences emerging within local politics and between different layers of authority which can be exploited by critics.
---
Levenshulme, Manchester
The Levenshulme Bee Network began development in October 2018 after local sustainable travel advocates were invited by councillors to form an group with the aim of attracting funding from Transport for Greater Manchester (TfGM).
The organisation took a community-led approach to design with numerous face-to-face consultation events, then successfully put forward a bid for £2.5m for traffic improvement measures.
Last April, TfGM launched a Safe Streets Save Lives initiative, identifying Levenshulme as an area in need of interventions. Due to the pandemic, the focus of consultation shifted online, and once the full details of the
proposed scheme were released, there was a public backlash against the extent of the measures, coupled with concerns over the manner in which the consultation was carried out.
Last July, Manchester City Council decided it would no longer support the project team, issuing a statement saying: "We are pausing the project to continue getting the views of the community, so the proposals have the widest possible engagement before we move to a trial in the coming months."
Following this, community groups continued to campaign for traffic-calming measures, gather signatures for petitions and hold demonstrations, citing pavement parking and speeding as primary concerns.
Manchester City Council announced that a six-month Active Neighbourhood trial would begin in December 2020 and 14 modal filters were eventually installed at the start of this year, reduced from 29 in the plans published in summer 2020.
The execution of the scheme has already been criticised due to unclear signage and lack of additional measures to stop traffic using pavements to bypass the filters.
Given emergency changes, it is also difficult to get across some of the research into the impacts of traffic reduction measures or to garner enough support for patience to see the results of interventions which only become apparent months later.
The counter-intuitive results of research that found that traffic is not, in fact, a fixed volume and that measures to reduce road capacity will reduce traffic volume has been available since 1998.
Co-author, Phil Goodwin, writing in Local Transport Today notes that: "The reduction in traffic found was enough in many cases to enable the other advantages that pedestrianisation or bus priority could give.
"But its extent and location of the traffic reduction varied hugely, dependent (as one would expect) on the scale and ambition and care of the intervention, associated measures implemented at the same time (or shortly before or after), pre-publicity, availability of alternatives, the existing levels of congestion on the treated and alternative roads, and the distinction between short and longer term effects that could differ not only in size, but in direction."
The debate around traffic displacement has remained heated despite the evidence. This is partly because the evidence is that the extent to which traffic reduction is achieved will vary dependent on the scheme.
In Goodwin's research, scenarios varied widely between biggest traffic reduction observed (147% when traffic went down both on the treated road and the alternative roads as well) in the case of a very large-scale pedestrianisation scheme in Nurnberg, and at the opposite extreme six towns where pedestrianised high streets were accompanied by new bypasses and showed an overall increase in traffic in the whole area of 9%, because the bypasses induced more traffic than the modest pedestrianisation reduced.
"Our conclusion at the time was that we should confidently reject the use of modelling based on the assumption that the total volume of traffic was fixed. But the reduction depended on the situation and the supporting measures. Generally there were benefits to be gained – sometimes very large ones – but you had to work for them."
The preparedness of authorities to work for these large benefits and to ensure that they are felt by all has been repeatedly challenged. High profile political challenges mean that rapid reversals can take place before driver behaviour adapts to the new circumstances and people rethink their options and attitudes.
---
Lee Green, London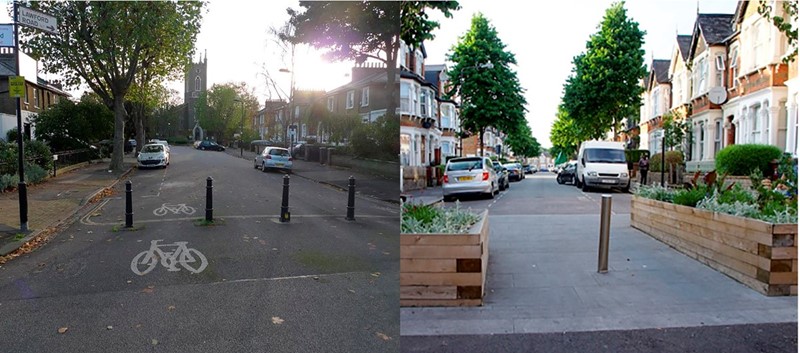 In 2019 an LTN-style scheme was proposed for the Lee Green area of Lewisham in south-east London following a consultation and engagement process which made use of the Streetbuilder online platform. The scheme involved the addition of 13 modal filters, including several enforced by traffic cameras rather than physical barriers.
With the onset of the pandemic, Lee Green was identified as a scheme that could be brought forward under emergency active travel funding. Work began last June, with full modal filtering in place by August. A "parklet" with covered outdoor seating was installed on one street in November 2020.
Residents soon voiced concerns that the scheme was causing congestion on the South Circular Road, traffic displacement to the adjacent area of Hither Green, slower bus journeys and increased air pollution. Anti-LTN campaigners were quoted extensively in local news coverage.
Prominent community spokespeople, including Rosamund Kissi-Debrah, whose daughter's death was later found at inquest to have been caused by air pollution, pointed out that the traffic displacement mostly affected lower-income communities with high BAME (black, Asian and minority ethnic) populations. At the same time there was extensive media coverage of the fines issued to drivers at the camera-controlled modal filters which, it transpired, totalled more than £3 million by October 2020.
The Mayor of Lewisham apologised to residents for the disruption caused by the scheme and changes were announced in late October, comprising the removal or alteration of five of the filters. Lewisham Council says it remains committed to the LTN, but is focusing on a programme of temporary timed 'School Streets' closures.
A report into the scheme's effects on traffic levels has been delayed; a council statement in December says: "It was our intention to share this by the end of November but ,unfortunately, there has been a slight delay, while the air quality data is fully calibrated and verified... we anticipate we will be able to share the full monitoring report later this month."
By contrast, the Active Travel Emergency Fund has allowed some areas to engage in processes which have less defined end points and adopt a very active approach to amending schemes as part of the trial. Although schemes like Kings Heath in Birmingham (below) are still in progress and are not immune to criticism, they seem to attract a less heightened debate.
---
Kings Heath, Birmingham
The West Midlands Integrated Transport Authority (ITA) was awarded £3.85 million in tranche 1 of the Emergency Active Travel Fund, the largest figure for any area outside London. This enabled a number of interventions in Birmingham, including pop-up cycle lanes, improvements to existing infrastructure, and LTNs in Lozells, Newtown and Kings Heath.
The Kings Heath scheme, part of a wider initiative dubbed Places and People, was announced on July 25 and installed in mid-September. Nine modal filters divide the area up into four traffic cells. Initially, road closures were widely ignored until the installation of additional bollards in mid-October. Ongoing changes have been made to the scheme such as moving planters and adjusting the areas covered by parking restrictions. Parts of one street, York Road, were turned into an alfresco street dining area for cafés and restaurants.
Informal observations suggest that the amount of walking and cycling in the area has increased, but so has traffic on adjacent main roads. With eight schools and sixth form colleges close by, school run traffic appears to be a noticeable contributor to congestion in the area and this may offer the greatest potential for modal shift.
The scheme has attracted a mix of praise and scepticism, but, despite some incidents of vandalism, it has not been opposed on the same scale as LTN schemes in London.
The community has been actively involved in some elements of the scheme, such as helping to plant up the large troughs used as modal filters. The project is currently on a six-month trial, and in November Birmingham City Council announced it was launching a formal review of all emergency active travel measures including LTNs.
---
CONCLUSION
In the final analysis, those who live in London's LTNs like them. TfL research from September 2020 found that 56% of people surveyed who lived within an LTN thought they were suitable for their area with 8% neutral, and 53% thinking they should be rolled out more widely (9% neutral).
By contrast, people who lived outside an LTN did not think they were suitable for their area (72%). Unpicking this number to find out why they don't think their area was suitable would be interesting – but it's clear that the experience of living in a low-traffic area produces very different opinions.
Greenpeace polling across the UK carried out in October, found 26% of people said they strongly supported LTNs, and 31% would "tend" to. In contrast, 8% strongly opposed them, and the same number tended to. That left more than a quarter of people either not knowing or neutral.
Peter Walker, writing in The Guardian after the Greenpeace poll says: "This new era of urban driving means changes to the road network need months to bed in. When the street I live on was closed to through motor traffic in one direction, the first week or so there were a near-constant mass of beeping, U-turning cars at the relevant junction.
"'This is madness!' the critics yelled. 'End it now!'
"It wasn't ended. Sat-nav algorithms got updated, chaos subsided very quickly, rat-running traffic has largely evaporated, and now I'd wager many locals barely remember the old system.
"In contrast, councillors in Lewisham panicked and changed course in a matter of weeks.
"Again, to stress, I don't underestimate how difficult it is for councillors to face abuse, hostility and even threats of violence after changing a long-assumed status quo. But for those who are wavering, I would urge them to bear two things in mind.
"First, if you eliminate an LTN, or another traffic-taming intervention, you're not solving anything. But also, for all the noise from a minority, as the survey shows, they are a minority. These changes are popular."