It may be a little while before the outcomes and impacts of the coronavirus pandemic are fully known, but there is little doubt that it has presented planners with an unprecedented opportunity to make substantial changes in one fell swoop.

When the Covid-19 pandemic first hit, local transport planners were swift to introduce temporary measures to encourage active travel while central Government stepped in with emergency funding to keep the country's buses and trains running.
But, if coronavirus precipitates a permanent shift in working practices and travel trends, what will our future transport infrastructure look like?
The pandemic has sparked what feels like an existential crisis among transport systems across the UK.
While rail passenger levels remain low, in some parts of London in September 2020, traffic levels outstripped pre-pandemic volumes and although Covid-19 underlined the fundamental importance of the buses to millions of key workers, without ongoing subsidies, these key transport assets may not be viable.
Amid talk of cuts to service levels on the underground and buses, devolved transport authorities across the UK are currently locked in negotiations with central Government over future fare subsidies.
Without ongoing support from the Government, the pandemic poses profound questions about the viability of bus and rail services without a fundamental rethink on how they are funded.
There have been more positive developments in the arena of active travel, but some of the associated infrastructure – cycle lanes and low traffic neighbourhoods – have proved controversial in some areas.
Many analysts insist the pandemic has simply accelerated trends that were already underway, forcing transport planners to confront thorny issues such as road space reallocation and parking provision.
With traffic and passenger numbers plummeting in the last week of March 2020, spring's lockdown hiatus also gave local authorities the opportunity to act quickly to deploy temporary infrastructure as
residents got a flavour of what a quieter, less congested and less polluted environment might feel like.
"The one big realisation the pandemic has brought is that you can de-couple economic growth from transport and travel," says Martin Tugwell, programme director, England's Economic Heartland.
"Large swathes of the economy are now working perfectly well online. Economic necessity and the imperative to protect public health achieved – in a matter of days – what transport planners have been trying to do for decades.

Martin Tugwell, EEH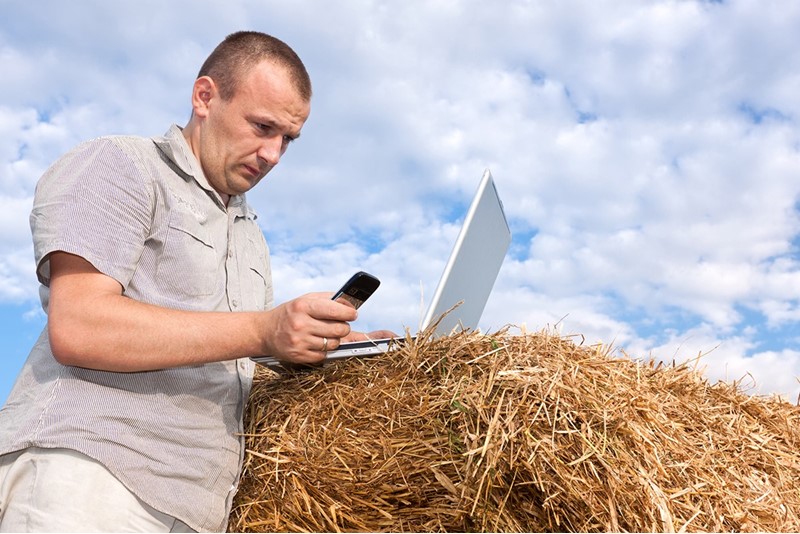 "After what could be more than a year of lockdowns, travel restrictions and working from home, millions of people will be really eager to 'get back to normal' but that risks undermining the momentum that has been building to 'do transport differently'.
"We need to be more ambitious than simply tinkering around the edges of transport strategy – we need to consolidate some of the gains we have made in areas such as active travel and flexible working – and use these encouraging developments to inform an honest conversation about what transport in the 21st century looks like.
"This conversation clearly needs to take our decarbonisation obligations into account, but it must be broader-based than that. We need to ask the big questions about what transport is for and what outcomes people want to see in terms of quality of life."
Impact of pandemic on urban transport
Department for Transport (DfT) data reveals how hard different transport modes were hit – and then recovered – after the first wave of the pandemic.
Traffic across all modes fell by between 65% and 95% at the end of March, but car travel was the first to recover, reaching close to pre-pandemic trends by September before falling back again in subsequent lockdowns, then recovering quickly.
Bus use also bounced back reasonably quickly, but anecdotal evidence from transport planners across the country suggests this is due to key workers and other employees who can't work remotely and have no access to alternative transport.
Passenger numbers on the London Underground and National Rail showed much more modest recoveries and in January, the Rail Delivery Group made significant temporary changes to time-tables to reflect this reality.
Using data from Google and Apple, the Government's weekly mobility reports indicate that, while visits to workplaces remain around 25% lower than the pre-pandemic baseline, use of public transport remains 40% lower.
This would suggest that many of those returning to work are choosing to travel by car as opposed to public transport. If this trend solidifies, then assuming the vast majority of employees return to office-based roles, traffic levels are likely to rise significantly in UK cities.
Google's data and Apple's Mobility Index public transport metrics showed similar drops, though not as large. Apple's figures also showed a sharper rise as measures were relaxed.
A consensus is building around the future of hybrid working for white collar workers in the 'knowledge' economy – driven by significant benefits for both employers and employees.
The pandemic has shown that – for a significant proportion of office workers – remote working 'works'. Employees appreciate the greater freedom that comes with more flexible hours and less commuting while employers are realising they can save significant sums on office space while maintaining and – in many cases – improving staff productivity and morale.
An EU survey conducted in 2020 established that 37% of jobs could potentially be carried out from home, with many more clerical and admin jobs featuring in that number after the outbreak.
But the survey also highlighted the potential for a growing 'teleworkability divide' between more highly skilled and paid teleworkable jobs and lower paid jobs which excluded workers from any digital dividend.
So, is it possible the reduction in commuting implied by the growth of flexible working could ease urban mobility capacity issues?
"The reality is that – even in the school holidays – it's noticeable how much more freely the traffic moves," says Tugwell. "If we can reduce rush hour traffic by 10-15% – suddenly, the capacity squeeze isn't as severe and systems tend to work better."
Urban exodus?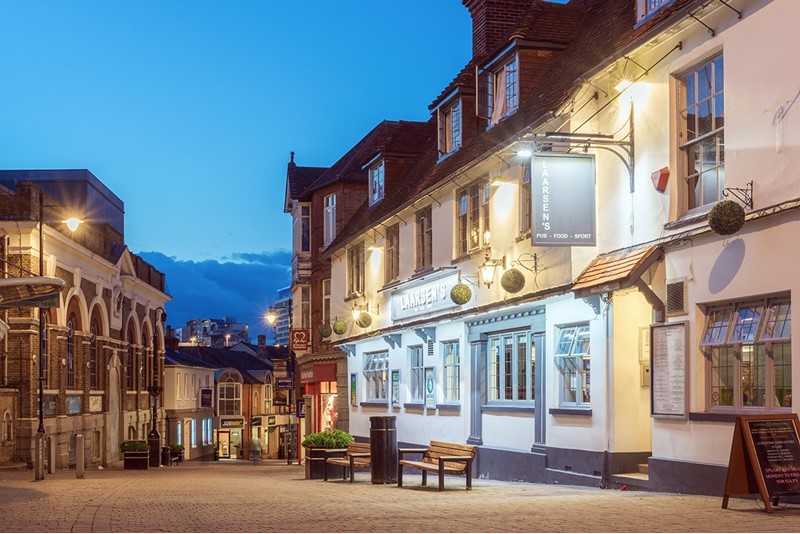 A recent report from accounting firm PwC suggests London's population fell by 300,000 in 2020 – the first decline since 1988. This backs up research conducted last year by the London Assembly which said 400,000 residents were planning to leave the capital over the next 12 months.
The PwC report also points out that Londoners are more likely to work from home than anywhere else in the country owing to the preponderance of professional, IT and finance roles where remote or home working is possible.
But, London isn't alone here. Another report from the KPMG accountancy firm suggested prosperous commuter towns across the south-east of England could also see an exodus of people and jobs in retail as more and more staff work – and shop – from home.
KPMG identified a string of towns including Bracknell, Guildford and Basingstoke (pictured) whose high streets risked being hollowed out by the loss of commuter footfall.
Both the KPMG and PwC reports conclude that cities with a strong cultural and leisure offer will simply replace office-based economic activity.
This holds few fears for cities such as Manchester (pictured below), where Transport for Greater Manchester (TfGM) transport strategy director Simon Warburton describes the city centre as one huge events space.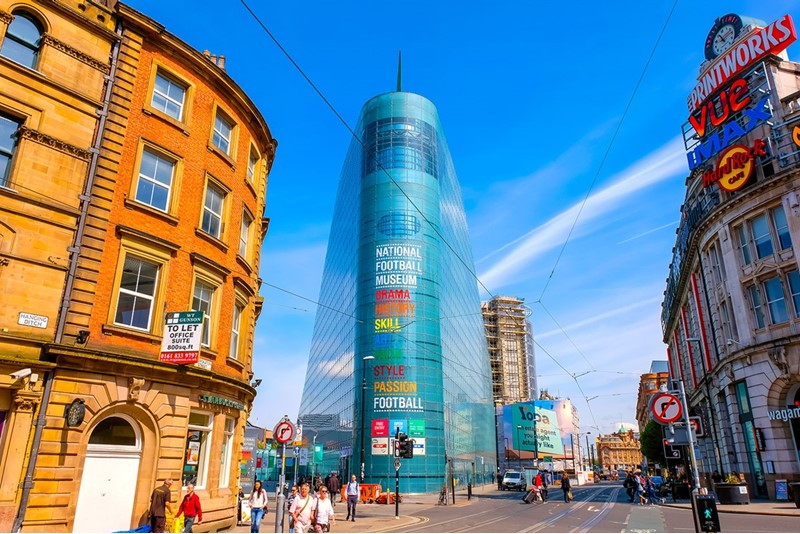 Warburton's colleague and head of strategy, planning, investment and innovation Nicola Kane says: "We need our streets to perform a variety of functions – which may include travel by car, active travel, retail and leisure and we recognise that a 'one-size-fits-all' approach won't necessarily work.
"The street furniture has gone into locations like Deansgate, but the next challenge is to look at the quality of design and execution: cones, bollards and temporary planters don't really offer a long term solution.
"The focus of our Streets for All strategy is increasingly being driven by place rather than mode and we are aware we need to get the balance right. As we roll out the Bee Network (Manchester's ambitious active travel network), we are confident the longer term place-making solutions will be of the right quality."

Nicola Kane, TfGM
Karla Jakeman, connected transport innovation lead at Innovate UK, says: "I suspect we will see more of a shift in the purpose of travelling to big cities. They may become less for business and shopping and more for housing and leisure.
"With more people working from home and less need to travel into the cities for offices, this begs the question of how empty offices will be used. There is a lot of research going on at the moment on the future of the town centre."
Tugwell concurs, saying: "I think headlines signalling the end of commuting are unlikely to be borne out, but I do think hybrid working will increasingly become the norm. This will mean that our cities may need to reinvent themselves, with more of an emphasis on leisure, cultural and hospitality sectors."
But the economics of travel for the often lower-paid workers in these sectors is more problematic. If rapid growth in city centre events and hospitality sectors requires workers to commute from the fringes, this risks a new form of 'transport poverty' where the cost of commuting actually erodes living standards.
In regional cities, the pandemic has made it clear just how many people have no choice but to use public transport to get to work.
"Many people who work in retail, warehousing, health – where they can't work from home, have returned to work and are completely reliant on public transport," says TfGM's Warburton.
"We saw passenger numbers running at 70% of pre-pandemic levels in the run-up to Christmas, but the only reason we are able to continue to provide that level of service is because of emergency funding from central Government.
"Those levels of subsidy are going to need to be maintained to take us through the transition to more normal levels of operation as confidence returns."
It's a similar picture in Liverpool, according to interim director of integrated transport Shane Fitzpatrick.
"We saw a significant fall in car commuting in the early part of the (first) lockdown based on the traffic flows through the Mersey tunnels. Traffic levels recovered relatively more quickly than public transport both in May and since. It was interesting to note that the punctuality of the bus services hit 93% and above during the first lockdown and since that time – the highest we've ever seen and almost directly attributable to lower private car use.
"We anticipate bus passenger numbers will start to bounce back in a relatively short period, but not necessarily to the levels seen prior to Covid, because the reality is that many people simply don't have an alternative.

Shane Fitzpatrick, Liverpool City Region
"We are planning for a two-year 'recovery period' when we are not expecting to make any long-term strategic decisions about changes to routes or capacity until we have a clearer picture of future demand."
But at the Centre for Cities, policy officer and lead on transport and devolution Simon Jeffrey warned against the potential for unexpected consequences of more flexible working.
"Commuters have become accustomed to getting discounted journeys with their season tickets. If more flexible working patterns become the norm, then, unless public transport can offer the sort of flexible fares to match, more people might be more tempted to use their cars to commute just a couple of days a week, making urban congestion even worse.
"The other unpredictable outcome is that a big shift away from city centre workplaces could simply push traffic volumes onto suburban roads that don't have the capacity. You could have lower traffic volumes overall, but if the traffic is in the 'wrong' places, it could create a huge problem."
Jeffrey emphasised the importance of reallocating roadspace to bolster the viability of urban public transport systems and adopting the pricing structures familiar to rail commuters to place a similar premium on peak hours commuting by car via more widespread use of road pricing.
"We've got to get away from the idea that road pricing is just another tax on the motorist: it's not – it's a charge that buys motorists a faster, more efficient journey if they want to travel at peak hours.
"The revenue from the charge is a by-product of creating allocating road space more efficiently which can then be used to fund better public transport, which, in turn creates even more room on the roads."
Rural and suburban transport impacts
Although the UK's urban population arguably faced greater restrictions from lockdown measures, rural areas endured different challenges – especially when the lockdowns began to ease.
Rural beauty spots and seaside areas were besieged by furloughed workers during the spring and summer – creating traffic and parking issues which many places didn't have the capacity to handle.
If – as many commentators predict – an acceleration of remote working is one of the legacies of the lockdown, more knowledge workers may relocate beyond the suburbs if their employers support 100% remote or hybrid models.
It is far from clear if these projected population shifts mark the beginning of wholesale flight to the countryside in pursuit of a digitally-driven rural idyll. However, if the rural population does increase significantly, this has the potential to reverse declines in rural public transport services as demand increases.
This emerging demographic of rural digital teleworkers may all buy cars to get around, which from a congestion and decarbonisation perspective, would be disastrous. But having previously been conditioned to using public transport in the city, they may look for other mobility options.
Jeffrey says the advent of more flexible working has the potential to extend city-based employers' access to a wider pool of talent, spreading the economic benefits that have agglomerated in cities across a wider geographic area.
"If more smaller cities and towns fall within the orbit of major cities like Manchester or Birmingham, their economies tend to get stronger. We've seen the impact of London's economic strength spread across the entire south-east and more flexible working could have a similar impact across the whole UK."
Innovate UK's Jakeman emphasises the importance of combination travel and integrated solutions in the rural context.
She says:"We don't want to simply shift congestion from city to the countryside, so there is a role here for a combination of active travel and public transport.
"More flexible integration of modes would encourage people to cycle or walk some of the way and use public transport for the rest of their journey so they don't feel the need to own a car.

Karla Jakeman, Innovate UK
"This is where what I call Combo Travel comes in. Rather than selling access to (usually motorised) transport, Combo Travel focuses on encouraging and enabling active travel and connecting with public transport and could play a significant role in the future transport mix because of the multiple policy priorities active travel helps address."
Kit Allwinter, active travel policy officer at West Yorkshire Combined Authority (WYCA), believes the legacy of lockdown is already fundamentally reshaping working patterns.
"The pandemic has demonstrated that another world is possible," says Allwinter. "It has shifted the huge cultural inertia that prevented any serious discussion of adopting different ways of working and – for many people – revealed that a better work-life balance is possible – especially when commuting is removed from the daily routine.
"For some people, the past nine months have opened up new opportunities to work across the UK in roles that previously would not have been practical purely because of geography. For others, working from home has allowed them to devote more time to family, friends or hobbies without any discernible impact on productivity.
"These shifts could lead to regeneration of local high streets in cities and towns across the country if today's commuters became tomorrow's teleworkers. Imagine how much more money would remain within their local economies if – instead of driving or catching the train into the nearest big city – people spent more time working from home and more time and money in their local communities."
Tugwell says: "If people are able to spend more time in their home towns, there is an opportunity to revitalise provincial high streets as more of their income can be spent there, rather than in the city centre.
"I also think the legacy of the pandemic will accelerate the growth of local mobility hubs in the suburbs and some commuter towns where commuters can switch modes – say from bike to bus or tram – or rent office or meeting space. Again, these offer completely new opportunities to repurpose and reinvigorate the suburbs and commuter towns."
In the north-west, Liverpool City Region is planning for a significant increase in commuting from its rural hinterland which stretches across Lancashire and Cheshire and across the border into North Wales.
Fitzpatrick says: "Liverpool City Region's wider economic plan envisages a big increase in commuting from the wider Merseyside Travel to Work region.
"This is one of the reasons we are still committed to investing heavily in our own fleet of new Stadler electric multiple units with batteries and regenerative braking which, as well as reducing our carbon footprint, will offer more space for passengers, bikes, buggies and luggage and we are introducing sliding step technology that provides unassisted access or all passengers.
"While the pandemic has hit passenger numbers hard in the short term, in the medium- to long-term, we continue to plan for servicing a vibrant regional economy where the level of job creation outstrips the local skills base, so we will need to tap into the skills base from further afield – particularly in the leisure and cultural sectors – which are such a key aspect of Liverpool City Region's offer."
The other mode which has the potential to bridge the gap between town and country and replace private car journeys is the e-bike, sales of which rocketed by 63% during the lockdown.
Research by Leeds University's Centre for Research into Energy Demand Solutions (CREDS) unit revealed that e-bikes appealed to non-cyclists who wouldn't currently consider a longer commute by pushbike. As a consequence – they offered the potential to replace journeys by car – especially in rural areas.
Ed Pegram, commercial partnerships manager at bike-maker Raleigh, says: "Active travel has huge environmental, social and economic benefits and could aid in post-Covid economic recovery highlighted in the recently announced Government 'Gear Change' document. For those that cannot work from home it is important that more sustainable, affordable and long-term solutions are adopted.
"Electric bikes can be life-changing, from increased mobility, freedom to travel greater distances at low cost or just for the enjoyment of not being stuck in traffic, they offer users low cost, energy efficient
emission-free transport."
WYCA's Allwinter is optimistic about the potential of e-bikes within the context of a rural revival: "If people are likely to be commuting shorter distances – perhaps to suburban hubs – less frequently in the future, this could drive a significant shift to the active travel the Government is so keen to encourage.
"In this respect, e-bikes or cargo bikes could be a game-changer. They open up longer distance commutes to people who wouldn't normally consider cycling to work and in this respect, they are actually more likely to replace cars than pushbikes without requiring any additional investment in supporting infrastructure."
And TfGM's Warburton believes moving the transport focus to the urban fringe could also shift the centre of economic gravity.
"If the trends towards more flexible working outside the city centre are borne out, this does imply more orbital journeys between urban centres across the city region," says Warburton.
"Our five-year delivery plan will examine providing more bus routes between these local centres and integrating these better with walking and cycle routes.
"What that could mean for mobility hubs such as Bury is that we revisit how the existing space is allocated. Improving the public transport and active travel connections to wherever those cars are coming from could free up that space for more value-added activities such as work, retail or leisure, creating more high quality jobs and economic activity outside the city centre."
Conclusion
The consensus among analysts is that we are unlikely to return to the status quo. Both employers and employees have seen the flexible working dividend and a hybrid form of working that implies significantly less time in the office for white collar workers will increasingly become the norm.
The impact of this decline on commuting is difficult to quantity, but if it reduces peak demand by just 10-15%, this would ease the pressure on overcrowded public transport. On the other hand, if the anticipated
reluctance over returning to public transport is borne out, urban congestion and pollution could become worse in the short term, as more people use private cars to get to work.
Furthermore, at a time when there is huge uncertainty over funding arrangements for both national rail and local bus services, a 20% or 30% fall in demand suggests Government support to preserve existing levels of service is an urgent priority.
If the nascent active travel revolution precipitated by pop-up cycle lanes and low traffic neighbourhoods is sustained and consolidated upon, this has the potential to further reduce car journeys – particularly if those with longer commutes switch to e-bikes.
Greater connectivity and integration between active travel and public transport may also be required to capitalise on the opportunities to further reduce reliance on private cars.
Of course, working from home is not an option for millions of workers whose job requires them to be physically present and if the flight from city centre offices means well-paid jobs in the city knowledge economy are replaced by less generously paid jobs in hospitality and events, the issue of travel poverty raised by some analysts could become politicised.
On a more positive note, by commuting less, workers could have more time to spend with their families and more money to spend in local communities at a time when the high street retail sector is under so much pressure from online shopping.
Yet the outlook is far from uniform across the nation. While sky high rents, travel costs and property prices in the south-east indicate that many knowledge workers and their employers would welcome more flexible working and less commuting, the northern cities, where commuting is less time-consuming and costly, are planning to increase commuter capacity.
These plans involve enhanced rail services in the Liverpool City Region and potentially train-tram services and a huge expansion of active travel infrastructure in Manchester.
Predictions of the decline of city centres and the demise of commuting are almost certainly wide of the mark, but what is sure is that fundamental change – in travel patterns, in fares and funding and in regulation – is a necessity.
The tyranny of the season ticket is coming to an end and the transport systems that replace it need to be more diverse, sustainable and coordinated.