Walking (and wheeling for those in wheelchairs) is the most fundamental mode of transport. While being the default means of embarking on a journey, walking is, simultaneously, so ordinary and ubiquitous that providing for pedestrians is possibly also the most overlooked element of the transport system.
Walking is strangely invisible and, apart from notable exceptions, it is generally squeezed out by attention-seeking and space-grabbing (usually motor) technology.
People walking are the most vulnerable road users (something now recognised by the Highway Code which puts pedestrians at the top of the new hierarchy of road users), while those in cars are encased in metal, insulated from their environment and protected from crashes with crumple zones and air bags.
Rather than evening up this power imbalance, highway policy and practice over the preceding decades has embedded it.
The road network for motor traffic has become the primary unit of transport discourse, embedded at the heart of policy, the basis for most assumptions and at the core of metrics for development.
As Susan Claris, an active travel champion at engineering consultancy Arup, puts it: "One of the difficulties (for walking) is that transport appraisal is based on time saving. We don't recognise the co-benefits for walking. We still don't recognise that expenditure in transport can create savings in public health."
Even as focus has begun to shift to the benefits of active travel, calculations of economic benefit for transport projects are based on the notional economic benefits of time saving for car drivers and the calculations for transport decarbonisation rely on switching from fossil-fuelled vehicles to electric vehicles (EVs). And, within the (still undervalued) active travel arena, walking is the poor cousin of cycling.
Impact on communities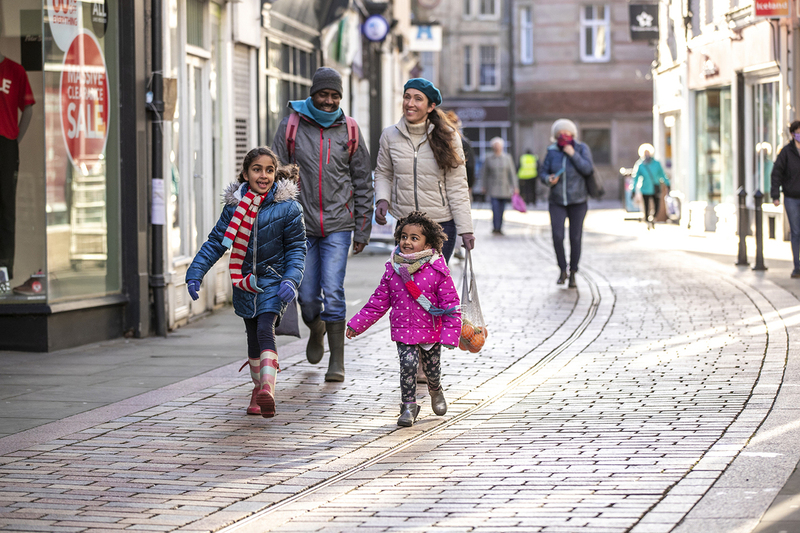 The evidence, however, is that this lack of focus on walking is very much to the detriment of communities.
Walking is fundamental to local economies, to high streets and to our physical and mental health. It's no accident that 'footfall' is the key metric for high street health and prosperity. All the evidence points to a pleasant walking environment helping to create a thriving high street.
Besides which, walking is, in itself, the underpinning of an active lifestyle that supports health and wellbeing. The price tag placed on physical inactivity is an estimated £1 billion per year in costs to the NHS.
Walking, however, has had to compete with everything else – and its advocates have struggled to get their message heard.
Stephen Edwards, interim CEO of walking charity Living Streets, says:
"There's a lot of distraction centred on 'new and shiny' things, a relentless focus on EVs as the solution to everything. Walking and cycling are the solutions – we need significant modal shift as a core part of the solution."
Among the problems is that humans love technology. From the first flint arrow to the latest moonshot we've been obsessed with technological solutions to our problems for millennia.
In this context, the power of walking is also its weakness: it requires zero technology for most people to take part. In theory, anyone can do it. Our excitement about new technology often directly conflicts with low-tech solutions and, at other times, just distracts from our most basic needs.
Increasingly, over recent decades, roads have been specified for the latest vehicles, with minimum carriageway widths for vehicles (and not necessarily requiring footways at all) and with complex traffic management systems that prioritise traffic movement.
Pedestrian crossings often make those on foot wait, then hustle them across the road at speeds that many members of the population may not be able to walk at.
Meanwhile, we have failed to appreciate that the increase in traffic volumes and speeds has a direct impact on people walking and has reduced the journeys that can be made on foot. For instance, rural roads that were quiet enough to walk down decades ago when cars were slower and less frequent have become high-speed rural rat runs, too dangerous for walkers.
Not surprisingly, the perceptions of walking are, increasingly, that it's dangerous or difficult – mostly with some justification (around eight pedestrians are killed by motor vehicles every week on UK roads).
Edwards says: "We've asked parents what puts them off walking their children to school and older people what puts them off walking to the shops. Talking to parents, the issues are all about vehicle speeds, too much traffic, pavement parking and even traffic on pavements. Older people note cracked and uneven pavements more and the lack of benches."
These perceptions encapsulate the issues for people walking. The barriers to walking are inadequate infrastructure, poor management and what can be best described as 'car dominance'.
Make way for walkers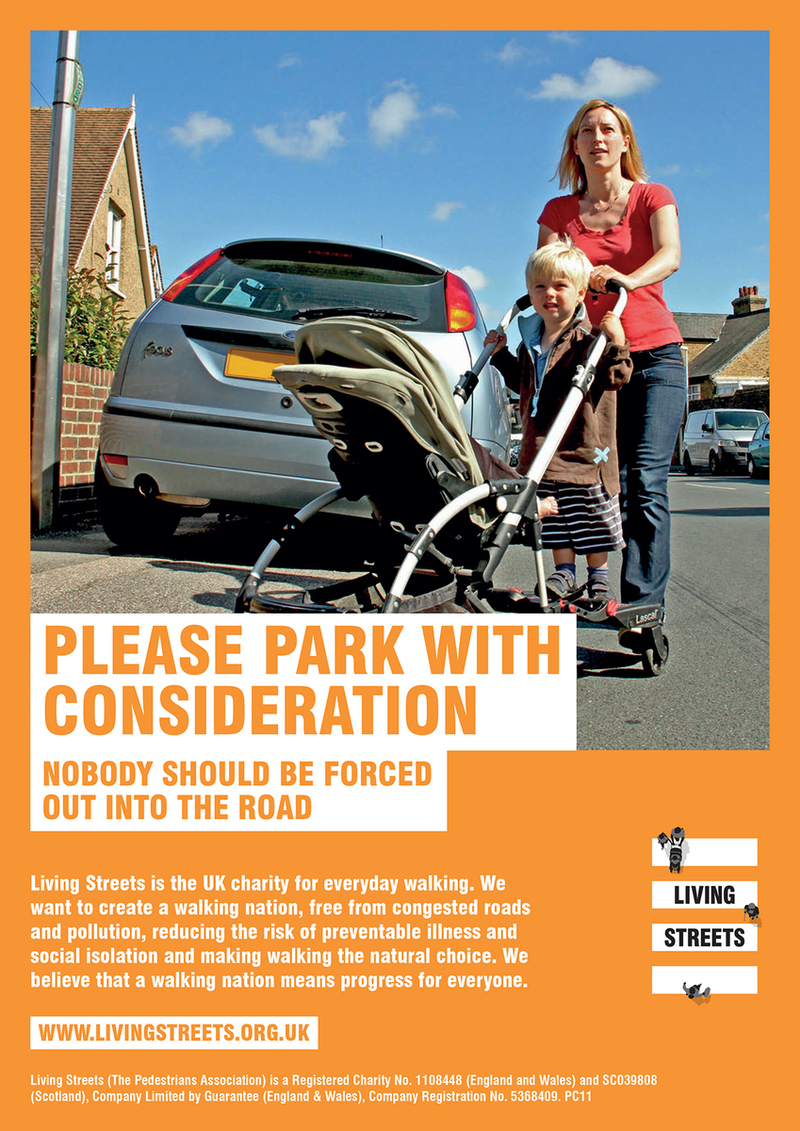 The gaps in provision and safety are the result of walking being low priority – an assumption that pedestrian space is malleable and less worthy of preservation, investment or maintenance than highways, permitting it to be filled with hoardings, signage and, lately, EV chargers.
Claris says:
"To improve walking – taken in its widest sense including wheelchairs, kids on scooters and parents pushing buggies – we need to make better environments. That means adequate footways, safer and better crossings and the whole built environment – including trees and seating – being pleasant."
Management is important, too. The way a footway is managed has impact. Things like cracked pavings, signposts, road works, EV chargers and litter all affect the pavement. Clutter reduces the effective width of the footway, which ends up being used as a reserve for other stuff."
Filling the pavement with 'stuff' pushes pedestrians out onto the road.
This is particularly the case when people park their cars on the pavement. It seems quite acceptable to drivers that they put their cars 'out of the way' of other traffic, but in the way of people walking and rolling.
While pavement parking is banned in London under a specific piece of legislation (The Greater London Act), it's more difficult to enforce outside the capital. It can be reported to the police (driving on the pavement is illegal, as is causing an obstruction), but there are insufficient resources to enforce the more complex legal situation.
A simple ban on pavement parking, like the one in London, enforceable by local authorities (as with other parking violations) would clarify the issue. The Scottish Government has passed such a ban into law. However, implementation is not due before 2023.
Such bans are important to Claris, who says: "It's essential that there's a national ban on pavement parking and that it's enforced. Even where there's plenty of width to park, drivers still put two wheels on the pavement which narrows it and causes damage which also increases the cost of management."
Air quality
A cultural shift is needed also. The evidence is that traffic puts people off walking – it feels (and often is) unsafe and creates noise and poor air quality.
The vulnerability of walkers has to be compensated for in many ways. Claris adds: "We need less dominance of traffic."
Just as traffic has risen to take more and more of our space and resources, it needs to be pushed back into balance with other modes, addressing the perception – and realities – around road safety for pedestrians.
"Every single, short car journey makes it less pleasant for everyone else – we focus on good infrastructure, but it won't be a good environment with lots of cars (and big cars at that, such as SUVs) will always make it less attractive to walk and cycle," says Claris.
"Discouraging short car journeys at individual level is important – it's difficult to make that change as the fixed costs of driving are so high and marginal costs are so low."
Slowing traffic, too, will have an impact.
"I'm a big fan of 20mph zones. They help to level everything up," says Claris.
Besides comfort from traffic, people need to feel comfortable that they are in the right place and will get to their destination without hindrance.
"We need policies to create places that support all people," according to Claris. "Infrastructure is important, but it comes down to having policies and political support. It's also important to be inclusive to all people everywhere – including leisure walking and rambling."
It's still not clear that all sectors of the community feel welcomed to walk.
A recent social media furore over the Muslim Hikers group tweeting about their walk on Christmas Day showed that there are still barriers for many people.
Claris says: "We need people to feel supported as walkers. Start with signs. People have a fear of getting things wrong. It was interesting that a recent mental health survey found that for people experiencing mental health problems the single biggest barrier is the attitude of other people."
Talking about walking with those who are passionate about it, makes it clear that it's not just about pavements. It's about thinking through what makes a space comfortable for walking. Thinking about where people are walking from and to.
Edwards advocates a back-to-basics approach. He says:
"We need to value walking infrastructure as much as we do driving infrastructure. We need to ask 'can we reallocate space from the carriageway to ensure pavements? There are benefits from walking and cycling that aren't accrued by driving'."
In cities, this usually means investment in increasing pavement width so people can walk together, people in wheelchairs can roll alongside their friends safely, parents can shepherd their children on scooters. It means creating an attractive, people-friendly, public realm, pedestrian areas and low-traffic neighbourhoods. Attractive places attract people.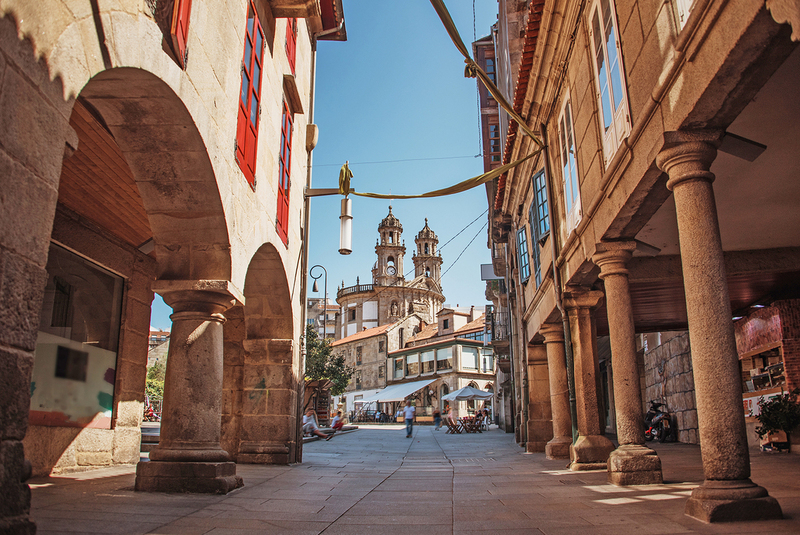 Claris cites the example of Pontevedra in Spain (pictured). "It's been pedestrianised for 20 years and has good data for the change. The mayor was elected in 1999 and re-elected five or six times since. The population in the town has increased when populations in surrounding areas have declined."
It's not just about redesigning what we have. Wherever you look there are gaps in our walking networks. From pavements that are too narrow to accommodate all but skinny, single, able-bodied users, to rural (and even suburban) roads with no footways, to stranded bus stops on little islands without access by pavement or pedestrian crossing.
Edwards adds: "The other interesting thing is that there's been lots of emphasis placed on town and city centres, but a lot less on the edges of urban areas. We really need to audit these areas too to focus on getting people to walk short everyday journeys."
Even in rural areas where roads don't have pavements, people need to be able to walk somehow and some way. It doesn't have to be right along the car route, e.g. a footway adjacent to the road. It really comes down to priority in terms of what is provided.
Multimodal walking
Ensuring walking routes to and from public transport cannot be over-emphasised. While Claris notes that good walking links with public transport increases use of public transport, the reverse is also true.
Research for the National Bus Strategy suggests that people who use public transport walk an extra 20-28 minutes per day.
According to Edwards:
"More walking happens if you invest in bus and train. We need to look at the links between them to increase the value of both. Research demonstrates that, if you invest in bus services, you increase walking."
Joint research between law firm Trowers & Hamlins and Oxford Brookes University (2016) assessed a wide variety of regeneration schemes.
Links to public transport were mentioned as important by 51% of respondents – more than the environmental aspects (29%) or the community (35%).
Once you start thinking about walking, it's clear that it connects closely with localism and a true sense of place. The idea of the 15- or 20-minute neighbourhood is in the ascendency, with planning to enable residents to access everything they need with a 15- or 20-minute walk or bike ride. While this idea depends on good walking and cycling infrastructure, it also relies on shops and services being distributed so there are things within walking distance that people want and need to access.
With this in mind, new projects are springing up around the UK, designing their transport around this principle.
From resistance to prosperity
Where councils have embarked on walking-centred public realm projects, they have generally become popular – although initially opposition is the norm. Case studies of areas with traffic restriction measures indicate that these do not harm the area economically and can improve perceptions.
Living Streets published a report on the Pedestrian Pound in 2018 that identified the extent to which investment can increase footfall for retailers. For instance, £10 million spent on pedestrian improvements in the Piccadilly area of Stoke-on-Trent led to a 30% increase in footfall.
Sheffield's Heart of the City project increased footfall in its centre by 35%. Land values in the regenerated area increased by up to £2.40 per sq ft and it was estimated to have created up to 527 new jobs.
The Temple Bar area of Dublin was partially pedestrianised and deliveries restricted between 6am and 11am. The area saw a 300% increase in employment following this, and plans are now in progress to improve the public realm further.
Research by Transport for London found that pedestrianisation and public realm improvements increase economic activity after a bed-in period of 12 months.
Walking – it's not all uphill
While local initiatives are proving the value of walking, there are also moves at the wider national level to rebalance the equation in favour of walking.
At mentioned earlier, the Highway Code revision, which came into force at the end of January, rewrites the code in line with a transport hierarchy that puts the most vulnerable users at the top and those that have the potential to cause most harm at the bottom.
While this may take a while to change driver culture, it marks a turning point in the direction in the law and in attitudes.
This is a start, but Edwards notes: "We still need to work out whether penalties should be altered for existing traffic offences."
This is particularly an issue for deaths caused by dangerous and careless driving where penalties often seem light in the face of the enormity of the impact.
The Department for Transport has consulted on banning pavement parking (outside Scotland and London), with an announcement hoped for in the near future.
Other measures are helping level the playing field already. The Traffic Management Act has made it possible to enforce school streets outside of London – as well as enabling council enforcement of other traffic offences.
And there is better news on funding, Edwards reports: "Government is increasingly investing money in walking. There are more funding sources than historically – including the Towns Fund and the Active Travel Fund."
In theory, the mayoral settlements will allow city regions to prioritise funding in line with public health and equity strategies, rather than using traditional transport appraisal based on time saving.
But investment in infrastructure alone is not enough. Revenue funding is needed too.
Edwards adds:
"Build it and they will come is only the start though. It also requires a focus on behaviour change to get people to walk and cycle. Revenue funding is just as important as capital in order to make the case."
However, these steps forward are dependent on leadership, and that is still patchy in Claris's view. She says: "Things might be getting better in terms of national policy, but local councillors are often more bothered about potholes and parking. However, I'd argue that one of the things you can do – as a local councillor – in a short timescale is to improve the walking environment."
She strikes an optimistic note on the future of walking, adding: "The past 22 months has shown that we're more capable of more change than we thought possible.
"We've seen the joy that people felt at walking in lockdown, the lower level of traffic, the peace and quiet. People found places that they hadn't seen before."
In a world where the pace is increasingly frantic, making space for the joy of walking should really be our next step forward.
The report from Living Streets, Walking for Everyone, is due to be launched on March 22.
---
Small town case study: Market Deeping
Market Deeping Green Walk is a project in development for the small Lincolnshire town of Market Deeping, near Peterborough. The aim is to create an enhanced walking and cycling network of greenways that rings the town and connects to Peterborough's Green Wheel, a circular cycle route that extends into the city centre.
The proposals include a 9km (5.5-mile) route encircling Market Deeping and the neighbouring Deeping St James, and a "green network" of quality walking and cycling paths within.
The proposals include a stipulation that no steps or tracks with unsealed surfaces should be included, making it as accessible as possible to a wide range of users.
Any future housing developments will be required to demonstrate that their design supports the aims of the green network, including maintaining access and including green spaces to create a pleasant walking environment. This is in contrast to many current housing developments, which, historically, have tended to close off connections to walking and cycling routes, often on the grounds that these could provide escape routes for people engaged in crime and anti-social behaviour.
---
City case study: Dundee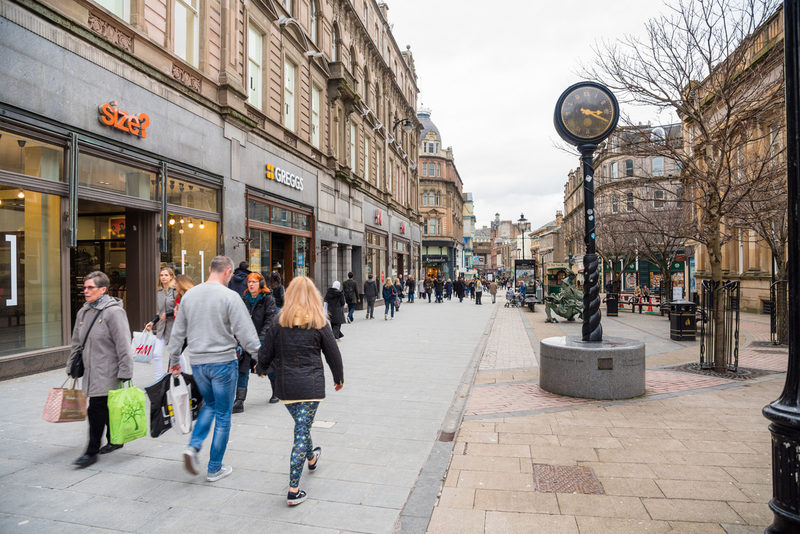 A new air quality management area covering Dundee and a commitment by its city council to introduce a low-emission zone in the centre provide an opportunity for change.
Dundee already has a high level of people who are not dependent on cars – 48% of its 150,000 population is car-free. Trials of measures to support walking and cycling have generally been positive.
City centre thoroughfare, Union Street, was temporarily pedestrianised in 2020 and new 20mph zones were introduced in the area. These moves were supported by 84% of local businesses, leading the city council to announce that the pilot scheme would be extended for a further year, when it was made permanent.
Other measures to support walking and cycling include a process of introducing School Streets with time-based traffic restrictions. One scheme is active with a number of others under review. In addition, there is a fleet of 150 hire e-bikes at 16 docking stations, under the brand name Embark Dundee.
An active travel hub is under construction in Waterfront Place, sited to enable easy access to the National Cycle Network. This will feature cycle hire, a bike workshop, bike parking and a café.
Overall, 50% of journeys in Dundee cover less than 2km (1.2 miles).
The council ambition is to ensure that as many of these trips as possible are made by walking and cycling. The additional anticipated benefit is that active travel can used to address health inequalities within the city.
---
Peer reviews
By Glenn Lyons, Mott MacDonald professor of future mobility, University of the West of England
Lyons works between academia and consultancy to bring constructive challenge to the transport sector in a changing and uncertain world
It remains a source of aggravation that 'smart' is often confused with 'technologically sophisticated'. The two are far from synonymous. Look up 'Thanksgiving traffic in LA' on Google Images and see how many lanes of gridlocked traffic you can count. Smart or dumb? I doubt driverless cars or hyperloop will 'solve' it. Yet look up 'pedestrian' on Google and it comes back with the dictionary definition "lacking inspiration or excitement; dull".
What a sorry state of affairs.
As Beate Kubitz's article reminds us, being able to put our best foot forward is a wonderful gift – one that gives in multiple ways. Walking connects us with our environment, it can foster a sense of community and serendipitous encounter, it offers 'me' time, time to think and it can help our mental and physical wellbeing. How smart is that?
Yet, this great gift has been neglected and, worse still, abused. We have been sleepwalking into a now widespread situation where our walking environments have literally been 'car-ved' up.
Not only is the pedestrian very often made to feel subservient to the motorist, but the sacred natural habitat of the walker (the so-called 'footway') is being overtaken by an invasive and unwanted species – the (ever more supersized) car and its companion delivery vehicles.
Parking on the pavement has reached epidemic proportions as motorists have assumed a sense of privilege and ignorance when it comes to where they leave their vehicles.
To hell with the person with the pushchair, or the mobility scooter or the wheelchair – let them take their chances on the road.
After all, footways have all but been redesignated as service lanes, places for parked cars, places for charging cables if the car is electric, places to install electric vehicle charging units, places for street furniture for the motorist's attentionand, of course, places for wheelie bins.
But there is hope, hope I know Susan Claris and Stephen Edwards will share. There have been signs of what might speculatively be called a walking renaissance.
In spite of the (ab)use of footways by motorists, in the period before the pandemic, data from the National Travel Survey for England indicated a 31% increase in walking trips of less than a mile per person per year between 2015 and 2018. Granted, this dipped a little in 2019.
And then came the pandemic. A period in all our lives of mixed blessings, one of which was an exposure for many to a 'live local, act global' existence where walking was something to be enjoyed as a reprieve from in-home lockdown.
And good news is surely round the corner. The Department for Transport (DfT) launched a consultation on managing pavement parking in August 2020. Nearly 15 months since the consultation closed the DfT is still analysing our feedback, we are told. Yet, over this period, the Transport Decarbonisation Plan was published in which the Government promises that by 2040 (why so long?) we will have a world-class walking network. As the article alludes to, a nationwide footpath parking ban is, therefore, surely the only smart outcome on offer from the consultation.
By Stephen Edwards, interim CEO, Living Streets
Edwards joined Living Streets in December 2018, becoming interim CEO in July 2021. His career has been focused on advising charities, companies and trade associations on their public relations and communications strategies
Walking is the most important mode of transport. It's the most accessible, regardless of age, sex, ethnicity or ability. It's good for our physical and mental health and is the most popular form of exercise, something we see again and again in Sport England's Active Lives Survey.
It doesn't contribute to climate change – in fact, it reduces carbon emissions if short trips that would otherwise be driven are walked – and it doesn't impact on air quality. And, as Living Streets' research shows, it's good for retail too, with sales increasing by up to 30% when high streets are regenerated for walking.
Schemes that improve places for walking are also popular. Research commissioned by the Department for Transport (DfT) shows that people overwhelmingly think the Government should act to increase road safety, improve air quality, reduce traffic congestion and noise.
And two-thirds of respondents to the DfT's survey support measures to reallocate road space to walking and cycling.
So, the case for walking is irrefutable. But, it is often overlooked and the focus on it here is welcome.
Things are moving in the right direction. The Government has committed record investment through its Gear Change Strategy and in its recent spending review.
The creation of Active Travel England is a game changer. And important changes are being made to the Highway Code, putting pedestrians at the top of a hierarchy of road users.
But challenges remain – especially in relation to inclusion. The Covid-19 lockdowns have exacerbated social isolation, especially among older adults. Car use is already back at pre-pandemic levels, bringing concomitant challenges for air quality. Ethnic minority and lower income groups are more likely to suffer from the effects of air pollution. And many of our streets are not fit for purpose for disabled people, with pavement clutter, poor crossing facilities and conflict between cycling and walking causing issues.
So, what more do we need to do to further boost walking?
First, show ambition through the second Cycling and Walking Investment Strategy, due out in the months to come. We have been calling on Government to go further with their walking target and commit to a target of at least 365 stages per person per year, and to reaffirm the importance of their target for 55% of primary schoolchildren to walk to school.
Second, we need to value walking infrastructure. We should improve the infrastructure we have in place already such as pavement width and quality and pedestrian crossings and ensure that space for pedestrians is well managed. We continue to see big problems with pavement clutter and e-scooting on the pavement. But, most importantly, there needs to be urgent action to ban pavement parking in England, following the progress made in Scotland and Wales.
And, finally, we need to see investment in schemes to promote walking such as Living Streets' Walk to School Outreach project with the DfT, which is successfully increasing the proportion of primary schoolchildren walking to school, plus social prescribing initiatives.
By Will Roderick, declaration manager, C40
Roderick serves as declaration manager for C40's Green and Healthy Streets Declaration. In this role, he tracks the implementation of the declaration in cities and co-ordinates C40 support to signatories to accelerate implementation
This article argues the case for walking as a means of rebalancing the way we move around our streets. Through consultation with UK industry experts, Beate Kubitz highlights key solutions to overcome the challenges faced by people walking today.
It's clear from the outset that people walking on our streets are highly vulnerable. Susan Claris points out that people are often deterred from walking due to a poorly maintained walking environment, largely a result of "filling the pavement with stuff", such as pavement parking. This forces people into the road and disproportionately impacts those with accessibility issues. Cities must tackle this to ensure equal access to public spaces for all.
Parking, in general, is a hugely inefficient use of valuable space in cities. Research has shown that private cars are parked up more than 95% of the time and across cities such as New York, London, Paris, Vienna, Boston, Houston and Hong Kong, parking can cover between 15%-to-30% of land area, land which could, instead, be used for quality public spaces for people to enjoy.
Unfortunately, private cars remain highly convenient for users, and disincentives are largely inadequate to change behaviour and achieve the modal shift required.
In London, car usage returned to near pre-pandemic levels in the latter half of 2021, with traffic congestion estimated to cost the city's economy £5.1 billion a year (£1,211 per driver). More than a third of car trips could be walked in less than 25 minutes, and two-thirds could be cycled in less than 20 minutes.
As Susan Claris plainly states, "every single short car journey makes it less pleasant for everyone else" – I couldn't agree more.
Why, then, are Londoners still choosing to drive, despite the capital's world-leading ultra-low emission zone (ULEZ), congestion charge, and the low emission zone (LEZ)?
There are clearly barriers to Londoners shifting to active and sustainable modes that go beyond poorly maintained pavements and parked cars. So, how do we encourage people to travel in a more active and sustainable way?
Often, the shift away from private vehicles is framed as a climate and air quality intervention, but I was glad to also see reference to the co-benefits of active mobility. Especially considering the Covid-19 pandemic, communicating the health benefits of active mobility is a powerful tool to influencing travel behaviour.
Cities, globally, are taking action to shift people to walking and cycling. In Lima, Peru, the city pedestrianised several streets in the Historic Center, which is a local and economic part of the city home to nearly 20,000 businesses. C40 research found that the number of people walking increased by 43%, leading to greater levels of physical activity and a reduced risk of mental and physical illness.
Similarly, Jakarta in Indonesia, one of the Institute for Transportation and Development Policy's (ITDP) Cycling Cities, is working with local partners to design a 500km (310-mile) cycle lane network.
I echo Stephen Edward's concern that our obsession with 'new and shiny' things has led to a global focus on electrification which could detract from getting more people to walk or cycle.
For me, this was highly apparent at COP26. Clearly, electrifying buses, freight vehicles, municipal fleets and, to a certain extent, private vehicles, will be fundamental in transport decarbonisation.
But we know that simply shifting fossil fuel vehicles to zero emission will continue to facilitate 'car dominance' and fail to solve many of our current problems – road safety, congestion, public health challenges etc.
We need to reduce vehicle miles travelled (VMT) by disincentivising private vehicle use, reallocating road space, improving pedestrian infrastructure, expanding our cycle networks, and ensuring equitable access to reliable public transport. This will ultimately lead to greener and healthier streets that put people first, with walking at the centre of this transformation.