In an archive newsreel from 1962, a group of architects stand behind a transparent panel showing a map of Paris's roads.
Starting at the Boulevard Périphérique ring road, one of them draws a thick black line across the centre of Paris, representing a new road.
Another follows, then another, until the centre of the city is chopped up into tiny boxes.
Thankfully, this scheme, designed to end Paris's traffic problems once and for all, never came to fruition.
Instead, Paris has become an unlikely example of step change in personal transportation: no mean feat considering France's major road network is literally centred on the capital.
A walk across central Paris in 2021 is quite a different experience, a complete change from 10 or even five years ago.
Green bike and scooter lanes line major streets, filled with a steady stream of bikes, e-bikes and scooter traffic mixing people's own bikes with a plethora of rental scooters and bikeshare vehicles.
As they whizz past, the traffic lights for pedestrians and cyclists across side roads are generally set to green, assuming an active travel priority.
There are fewer cars and they have less opportunity to dominate the streets. In concrete numbers, the mode share of private cars has declined by half since 1990, dropping to 12% of journeys.
Meanwhile, cycling has doubled, albeit from a much lower base than many European cities, and is beginning to take its place as an everyday mode of transport.
The shift away from cars in Paris is inextricably linked with its mayors, who are elected by residents from inside the Périphérique, rather than the city's outer suburbs, where car ownership is much higher.
Substantial control over traffic management
Paris's mayor has a substantial degree of control over traffic management and road layouts within the city, which has been used to gradually curb car dominance and carve out space for cycling, walking and public transport.
Arguably, the city's rise in cycling began in 2007, when the Vélib system of hire bikes was introduced.
Now the largest city cycle hire schemes outside China, Vélib has also gone on to become one of the most successful in Europe, racking up 209,000 rides in a single day.
At the same time, new cycling infrastructure and temporary road closure initiatives, such as 'urban beaches' on the banks of the Seine, began to become a feature of life in the city.
Sustainable transport received another boost in 2014, when Anne Hidalgo was elected mayor on a platform that included tackling the city's notorious air pollution problems.
Diesel engines were identified as a major contributor – in 2015 ,74% of the city's cars were diesel models, thanks in part to a lower tax rate on diesel fuel.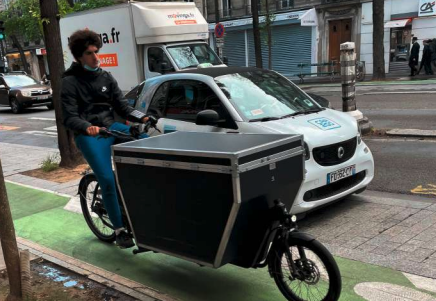 The Paris Respire scheme began in May 2016, banning cars from certain areas on the first Sunday of every month.
In 2017, the first permanent low emission zone was introduced, the Zone de Circulation Restreinte (ZCR).
Enforcement of this was made more straightforward by the introduction the previous year of Crit'Air, a scheme where every vehicle in an air pollution control area is required to display a tax disc-style sticker confirming what emissions standard it adheres to.
Following the success of the ZCR, in 2019 the first metropolitan low emissions zone (LEZ) was set up, banning diesel cars made before 2006 from the city centre.
This was enforced by automated monitoring, penalties and Crit'air stickers.
In addition, a 46-day transit workers' strike helped to double the number of cyclists between 2018 and 2019, instead of pushing residents back into cars.
The current LEZ permits only vehicles with the best Crit'Air stickers into the area from Monday to Friday, between 8am and 8pm.
Paris's transit system deserves a separate mention, combining the Metro, RER suburban rail, bus rapid transit and a growing tram system that has helped to knit these together, removing more road space from motor vehicles in the process.
Also in parallel, the first 'Plan Vélo' (2015- 2020) created cycle 'expressways' along the north to south and east-west axes, the banks of the Seine and to access the parks of the Bois de Boulogne and Vincennes.
In addition to the expressways, it includes a secondary network to ensure coverage of cyclable routes at local level. Importantly, it also provided more than 10,000 cycle parking spaces.
This represented a large investment in cycling, totalling €150 million (£126m), and including €63m (£53m) in cycle lanes, €30m (£25m) to finance 'Paris at 30km/hr' (19mph) including two-way cycle lanes along the grand axis routes that remained at 50km/hr (31mph) and €7m (£6m) in cycle parking.
In addition, subsidies of €10m (£8.4m) were provided to assist in the purchase of e-bikes and cargobikes.
In her 2020 campaign for re-election, mayor Hidalgo unveiled her now famous plans for a '15-minute city', removing 72% of on-street parking and making all streets cycle-friendly.
Later that year, in response to the pandemic, the city created an additional 60km (37 miles) of temporary cycle lanes dubbed 'coronapistes', many of which will be made permanent as part of 'Act Two' of Hidalgo's Plan Velo.
Air pollution in Paris is still a problem, with reductions from the LEZ offset by a rebound in traffic levels following the lifting of travel restrictions. However, levels of NOx in the centre of Paris are now half as much as on the outer ring road.
Cycling mode share has grown and is now estimated at 15%. Anne Hidalgo was re-elected despite vocal opposition – demonstrating a sharp disconnect between the media narrative and decisions made through the ballot box.
She has announced further bold measures to restrict traffic, including a new Low Traffic Zone, active from 2022, which will prevent non-residents' cars and vans from crossing the city centre at all, and a high-profile plan to remodel the Champs-Elysées as a pedestrian- and cyclist-friendly linear park.
In a March 2020 interview with The Guardian, Hidalgo made her position clear: "We've given vehicle owners plenty of notice so they cannot complain they were not warned.
"The place for the car in our city will be reduced even more with more alternative mobility available like bicycles, more buses and car sharing."